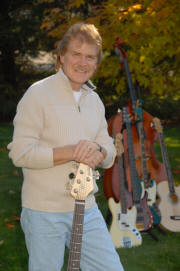 ALLEN is excited to continue the relationship that started with Ray and Randy Cramer in the band "Shucks", the band that garnered much country music attention in the late 80's and early 90's.

Allen plays both bass guitar and string bass, and provides back-up and lead vocals. He started playing bass in high school and went on to major in music at Lebanon Valley College. After college he started a widely varied music career, in which he toured extensively in much of the U.S., Europe, and Puerto Rico. His start in country music was with a Central PA band, "Cole Train." He was a member of the "Younger Brothers Band" who had two hits on the national charts. After the Younger Brothers broke up, he helped form "Shucks" with the Cramer Brothers and Terry Gehman (formerly of Anjoli Productions) . Shucks was a tremendously successful band, scoring a #1 song on the national independent record chart with the song, "I Love to Dance", winning the state championship of the Wrangler Showdown in 1989, and attracting scores of fans.

You might have caught Allen playing in groups such as "The Maxwell Project", or with Doug Brewin's tribute to Alan Jackson, or in various area theaters such as Mt. Gretna, Allenberry, and the Harrisburg Community Theatre at Whitaker Center in Harrisburg. Allen has played for Bob Hope, Phyllis Diller, Robert Goulet, Frankie Avalon, Bobby Rydell, the Platters, the Smothers Brothers, the Lennon Sisters, and the Osmond Brothers. He also appeared with Sally Struthers in the show "Always, Patsy Cline."

Allen is retired from public school teaching. He was a band director in the Carlisle Area School District for 27 years. He is now working with his wife, Cindy, in her photography business, "Cindy Roth Photography". Cindy has also retired from teaching middle school special education in the Boiling Springs School District.

Allen resides in central PA and has two daughters, both living in Nashville, TN. Abbi, is a singer, song-writer, and bass player. Autumn has degree in communications from Flagler College in St. Augustine, Florida and is a realtor with Parks Real Estate in Nashville.